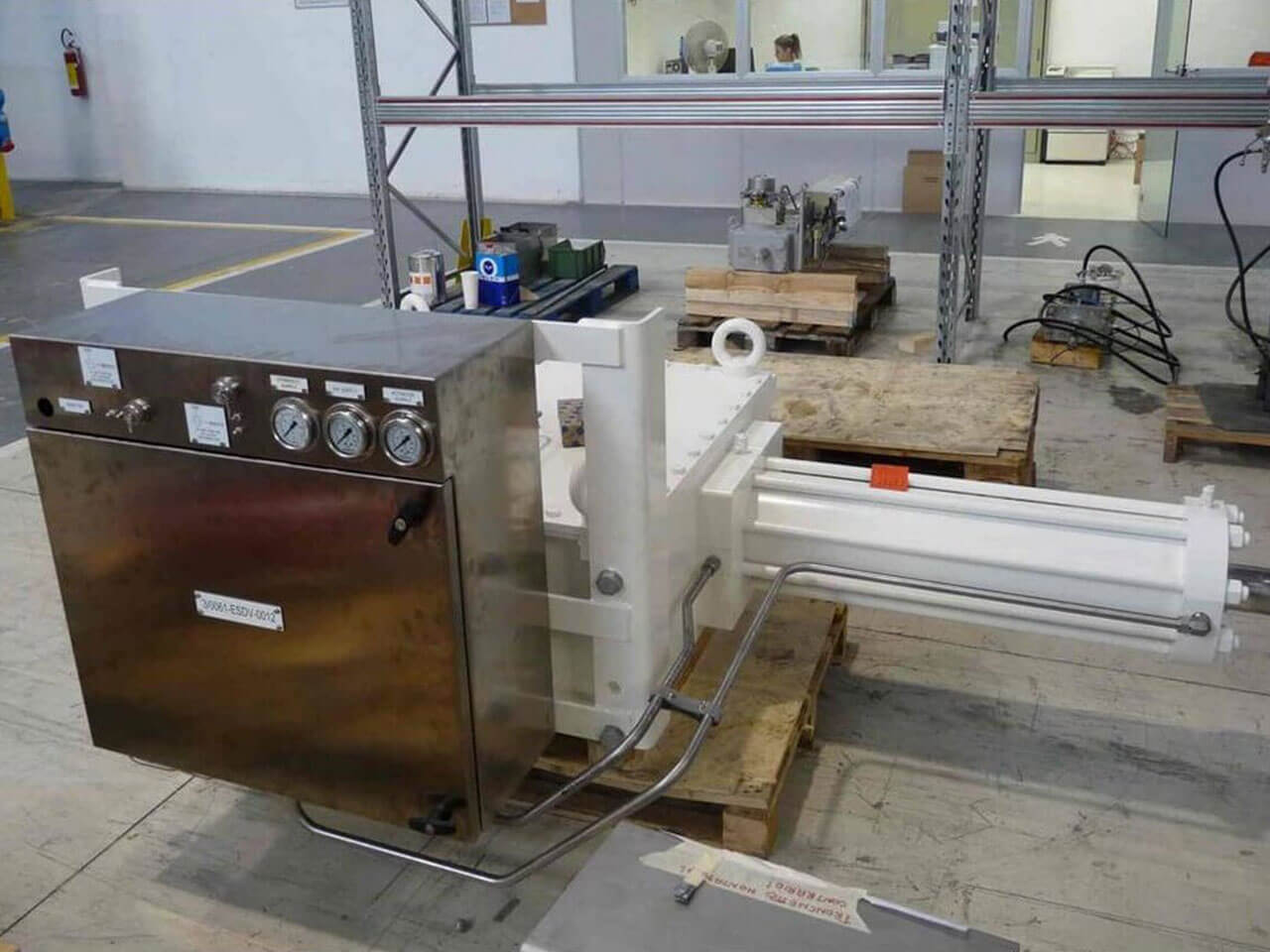 QTH Hydraulic Actuators Series
Higher efficiency and cost effective solutions: "QT" Scotch Yoke Series introduce a new generation of patented mechanism. QT Series are suitable for all modulating as well as heavy-duty services fitting any quarter-turn (90 deg) application.
Quarter turn SCOTCH YOKE Mechanism
Double Acting & Spring Return
Symmetric or canted yoke design
Hydraulic power supply (up to 350 BARG)
Output Torque Up to 800.000 Nm
Standard temperature range -30°C +90°C
Low temperature version -60°C + 90°C
PED 2014/68/UE Compliant
ATEX 2014/34/UE Compliant
IP67M, NEMA 4, 4x & 6 as minimum
SIL3 Capable according to IEC 61508
Corrosion resistant cylinder
Manual Override available
Protected travel stops are standard
Modular concept
Actuator in carbon steel – NO Aluminum NO Cast Iron
Pressure retaining components 3.1 Certified according to EN10204
Key Features & Advantages
The Double-acting models are available with individual test and output torque ranging from 1500 Nm (13,250 lb-in) to 800,000 Nm (7,080,000 lb-in)
The Single acting models deliver spring ending torque ranging from 1,800 Nm (15,900 lb-in) to 220,000 Nm (1,947,165 lb-in)
Operating pressure ranges between 20 barg (290 psig) to 350 barg (5.000 psig)
Standard design construction allows operating temperature from -30 degC (-22 degF) to +93 degC (+199 degF)
Low temperature option extends operating range down to -60 degC (-76 degF)
Hydraulic oil mineral based (standard). Special versions are available for water-based fluids
PATENTED Guide Bar hard chromium plated minimizing guide block swing extending piston rod lifespan under heavy load &/or continuous modulating duty and avoiding any side load on valve stem. Excellent surface finish and self lubricated bearings accomplish higher overall efficiency.
External tie-rods, zinc based chemical coating which resists 500 – 1000 hours of salt fog, maintain cylinder integrity.
QT Series is available with either symmetric or canted yoke design to cover as closely as possible valve resistive torque profile.
Totally enclosed and weather-proof actuator is engineered to meet IP66, IP67 IP67M and NEMA 4 & 4X Specifications for submerged and high pressure water deluge applications.
Cylinder Tube & all structural parts are manufactured in carbon steel material: no cast/grey iron or aluminium. All pressure containing parts are supplied with 3.1 Certificate according to EN10204. Designed according to PED (97/23 CE) Directive.
Cylinder tube is internally nickel-plated lined (minimum 25µm). Nickel-plating layer can be increased upon request.
External coating provides higher reliability in harsh environmental conditions as per ISO 12944 (Expected Durability) and in compliance with NORSOK M-CR-501 requirements.
Teflon ring with internal charging O-ring and external sealing O-ring prevents sticking phenomena after prolonged "stand still" and ensures reduced hysteresis and high sensitivity.
Dual piston PTFE sliding guide, yoke and guide block are mounted with steel Teflon coated bushing to minimize wearing effect and obtain higher sensitivity.
Fully welded o-ring sealed spring canister module is inherently safe; the DVG Automation adopted system allows safe assembly/disassembly without any risk for the personnel due to residual spring force.
316 Stainless Steel embossed name plate ensures long lasting information preservation, thus guaranteeing lifetime traceability.
External travel stops with protective cap ensure precise angular stroke adjustment 90 -5deg/+5deg.
By means of DIN certified eyelet (three or four off lifting point according to center-body size).
Accessory mounting pad allows dual side mounting & does not require any fixing modification in case of rear side assembly.
DVG Automation QYH series can be supplied with hydraulic manual override system. Power is provided by operation of local manual hydraulic hand pump. Open and close action can be selected by means of a directional control valve.
Certifications & Catalogue
DVG Automation Spa
It is important for us to reach you and understand your needs. Do you have any questions? Fill out the contact form or write to us. We will get back to you as soon as possible.